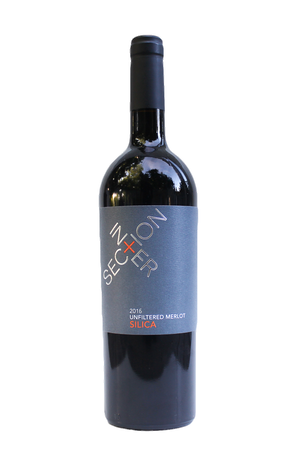 Silica Merlot 2017
One-half of Intersection's flagship Merlot pair (along with Alluvia)
2017 was the sixth season of our separation between the Alluvia and Silica Merlots. This separation allowed for more specified vineyard management, which together with the consistently hot growing season, resulted in a beautifully stable and uniform crop of fruit. The thin sand caused strain upon the vines, resulting in stronger acid and tannin structure in the fruit. Upon harvest, the Silica is treated to 28 days of fermentation followed by aging in tight-grained French oak, 30% new. This wine is gravity clarified, meaning that we rack the juice off of the settled sediment rather than pushing it through filter pads. This results in bolder structure, more density, and the designation: "unfiltered."
Wine Profile
Tasting Notes
Deep burgundy to cherry-red rim. Prominent cherry fruit and red licorice. Marzipan/almond note in the background, nice bakery aromas (dark fruit pastries/tarts). Floral characters (rose, violet) here are similar to the Alluvia profile, but more red fruit than dark fruit leading the way. Palate shows firm tannin, with some nice acidity following (less than the Alluvia, but more than Silica normally has). The finish is really fragrant, potpourri-like quality. Bramble fruit, vanilla, juicy fresh cherry. Bakery spices (clove, nutmeg).
Production Notes
Harvested October 10th, 2017. Fermented in tank for 7 weeks and then aged in new (30%) & neutral French oak barriques for 18 months. 203 cases produced. 2017 was flooding year #1, and the ten weeks of active water in the vineyard lent cooler temperatures and higher acidity in the fruit due to delayed lignification. There were some local forest fires that heavily blanketed the area with smoke in August, but I have not found notes of smoke taint in this wine or the other 2017s.
Food Pairing Notes
Try this with beef short rib or lamb shank, slow roasted with cipollini onion, roasted hazelnuts and wine reduction. Roasted butternut squash (or local squash of your choice) with black walnuts, brown butter and sage over barley risotto as a vegetarian option.
Other Notes
Our 10.5 acre vineyard is over 50% Merlot, and we have two different clones, one of which was bred at UC Davis and the other in Pomerol, in Bordeaux. This wine is made from the Pomerol clone and was planted together with the Alluvia block, across different soil types but sharing the same rows. The name "Silica" refers to the sandy soil in the section on the vineyard, which lends the wine distinct characters due to smaller berry size (increased tannin and concentration of flavour), elevated pH (due to more frequent drip irrigation). Using only 30% new oak and encouraging expression of the grapes, the result is a structured, deeply complex Merlot that can be enjoyed now, or hold for aging.