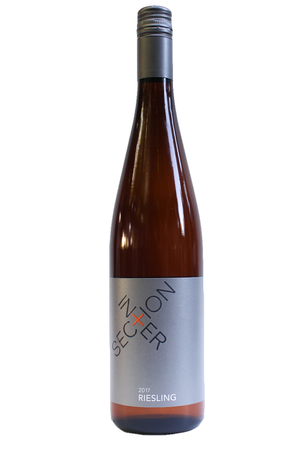 Riesling 2017
Clean, refreshing, and bursting with citrus fruit flavour.
A lively, aromatic minerality comes crisp and strong on the nose, intermingled with fresh green apple. On the palate, brief honey sweetness is swiftly cleansed by continued green apple and lime zest. A clean, refreshing finish leaves the mouth watering for more.
Wine Specs
Aging
Ready to drink now or can hold for aging 5+ years.
Wine Profile
Tasting Notes
Clean, very light white-gold and water-white rim, visible tears from the Residual Sugar and the higher alcohols created by controlled fermentation conditions. Nose features fresh Granny Smith apple, white grapefruit, fresh squeezed Peruvian Lime, apple blossom. Nice Depth and great potential for aging for even more complexity. Palate is fresh, with some good weight from the residual and structure from the 'fractions' that would have otherwise been separated out. Very juicy, hint of dry mustard in the background that we tend to associate with German Rieslings. Finishes long and vibrant, with a dry/stone note at the core. Very inviting, easy to drink.
Production Notes
Cool and clear conditions for most of the fall, some frost in the mornings. Picked in three passes from October 4th, 2017 to October 9th, 2017. Yield was 4.46 tons/acre. Pressed whole bunch to tank, then racked for cool fermentation (around 14-16 C). No press fractioning. Arrested fermentation around sg=1.002, aiming at 16-18 g/L Residual Sugar. Kept on light lees for at least 6 months before finishing and bottling.
Food Pairing Notes
Match with veggie pakora or onion bhaji (Riesling loves alliums), shrimp salad and dill, smoked trout rillette - any rillette or pate would be great with this.