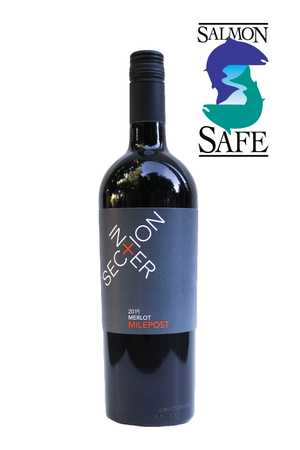 Milepost Merlot 2020
A bright, energetic, and flavourful Merlot.
Our 10.5 acre vineyard is over 50% Merlot, and the Milepost has become another great expression of it, truly showcasing the "intersection" of styles, soils and techniques to show the variety that Merlot has to offer. This wine is from an exemplary year in the Okanagan, with a long, sunny and frost-free fall following a beautifully sunny and hot summer. Using minimal oak and encouraging expression of the grapes, the result is a bright, fruity Merlot that's ready to drink right away. It's become a favourite of staff and customers alike!
Wine Specs
Appellation
Golden Mile Slopes
Wine Profile
Tasting Notes
Deep burgundy to a cherry-red rim, nice and clean. Nose shows kirsch and cassis liqueurs, dark chocolate and vanilla bean and blackberry jam. Some violet/perfumey notes follow all the fruit and give the wine some grace and depth. Big and jammy. Palate is smooth and dry with some dense tannin at the core. Integrated acidity and balanced alcohol, clean finish with big dark fruit.
Production Notes
Harvested October 14, 2020. 24 hour soak before yeasting, then 4 weeks on the skins with twice-daily pumpovers. Pressed in November to neutral French oak (we occasionally select a couple Silica and Alluvia barrels to add to the oak profile). Minimal racking and SO2 adjustment, 12 months in barrel. Total production: 471 cases. Available in our tasting bar, our online store, Save-On foods and in some private liquor stores.
Food Pairing Notes
A great value bottle which will match well to grilled flank steak and lamb shoulder