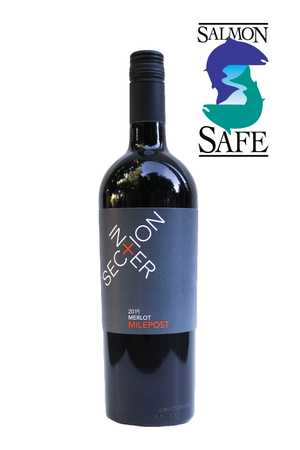 Milepost Merlot 2019
A bright, energetic, and flavourful Merlot.
The Milepost Merlot is the avatar of a season. Starting in 2011 we began to make this wine selectively in singular years that showed intrigue and promise. With low intervention winemaking and a light touch in the field, the Milepost Merlot changes from season to season, always reflecting the nature of the year that it's grown in. In 2019, that nature was bright, elegant, and extremely graceful.
REVIEWS:
Fall Boutique Wines From BC Now At BC Liquor Stores. By Kurtis Kolt - Wines of British Columbia (winebc.com)
Wine Specs
Aging
Drink now through 2026
Wine Profile
Tasting Notes
Medium burgundy colour to a cherry-red rim, nice and clean. The nose shows bright Lapin cherry with notes of clove, cinnamon, and mixed red berry jam. The palate is dry and inviting with bright acidity and smooth, integrated tannin. Finishes with warm baking spices and lots of fresh red fruit.
Production Notes
Harvested October 14th, 2019 with a 24 hour soak before yeasting, then 4 weeks on the skins with twice-daily pumpovers. Pressed in November 2019 into mostly neutral French oak barrels (approx. 5% new, this is dependent on tasting selection and we occasionally select a couple of Silica and Alluvia barrels to add to the oak profile). Minimal racking and SO2 adjustment, 12 months in barrel.
Food Pairing Notes
A great value bottle that will match well to buttermilk fried chicken, paneer masala, stuffed roasted red peppers or any grilling fare.