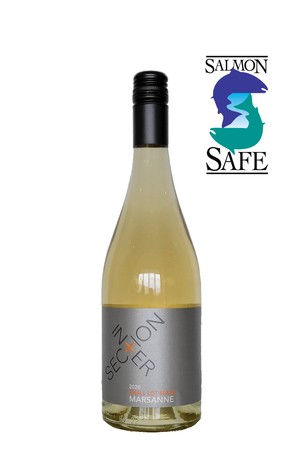 Marsanne 2020
Rare and exclusive, a delicate but well-balanced white.
Marsanne is a difficult grape for a grower to love, between its treacherous presence in the vineyard (the high tendency for mildew and uneven ripening, among other issues) and its pale, sometimes almost invisible flavor profile. But love it we do! The unique flavours of Marsanne are totally distinct in the world of white wine, and while we typically blend the Marsanne with Viognier to provide much-needed structure, in select years we receive that rare and perfect vintage that will stand on its own. Our pure Marsanne is infrequent, unconventional, and utterly delicious.
As this is a Small Lot Series wine, we are limiting purchases of this bottle to 3 per address.
Wine Specs
Residual Sugar
R.S. Dry (<0.5 g/L)
Wine Profile
Tasting Notes
Huge peach and orange fruit on the nose, really intense. Some jasmine and marshmallow characters too. Really bold! Palate is rich and has great weight, hint of spice (nutmeg, white tea, orange zest). A good balance of spice, fruit, acidity and texture, really nicely unified.
Production Notes
Fruit is 100% from Intersection Estate, picked October 22nd, 2020.

Pressed into two 2015 Damy barrels (neutral, at this point), kept on full lees aging for 8 months. Fermented cool in barrel, Rhone 4600, and no TD Alpha used this year. Kept on lees for 6 months with frequent lees stirring (twice/week at end of fermentation, once/week for 4 months, twice/month for the remainder of aging).
Food Pairing Notes
Warm overall impression, a good wine to have on its own in the fall months or with simple roasts. Pair with sheet pan veggies with miso and maple, pork tenderloin with a bit of white pepper and cumin, or roasted pumpkin soup—garnish with toasted seeds and crème fraiche [ed. -- Mel is using these from 2018, will make new matches, thinking Thai green curry as a base]
Other Notes
Why We Make This: This is a unique varietal in the Okanagan and a traditional element of whites and reds in the Rhone valley in France. We've found that it is also an essential part of our lineup, offering a look at a rare single-varietal, and it's designed for those who look for a weightier, earthier white and a departure from typical barrel-fermented whites. We age it in neutral oak to enhance the structure and texture and give depth to the fruit. Usually a small batch reserved for Intersection fans, and a cool wine to try in our bar.