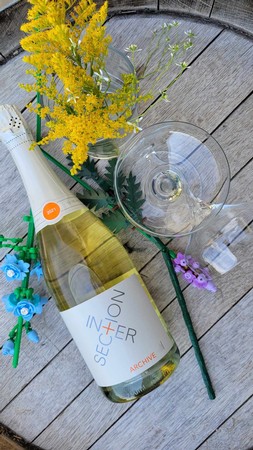 Archive Sparkling Brut 2021
Our inaugural Vintage of our Sparkling Wine!
The traditional-method Brut is made from Riesling, Gruner Veltliner and Cabernet Franc, a unique combination of varietals that all grow on our site. After hand-picking into baskets, carefully sorting and loading into the press, the wine was fermented and aged in two neutral french oak barriques, left to mature on the lees for 5 months, then settled in tank before being bottled with the yeast to complete the secondary fermentation--which gives it added yeasty flavours and the bubbles that we love. We had a local company riddle (moving the bottles until the yeast settles in the neck) and then disgorge the wine in the summer, separating the yeast from the clean wine in the bottle and adding a final dose of prepared wine for sweetness. The resulting sparkling wine is toasty, fresh and citrusy on the nose and smooth on the palate, finishing with a ripe peach/green strawberry note from the Cabernet Franc element. Like the Axiom red blend that we make, the Archive will appear in specific vintages where the conditions and crop level guarantee quality. Serve chilled!
As this is a Small Lot Series wine, we are limiting purchases of this bottle to 2 per address.