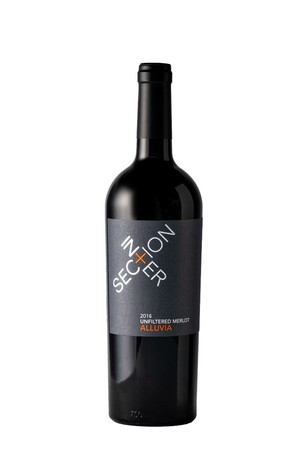 Alluvia Merlot 2020
One-half of Intersection's flagship Merlot pair (along with the Silica)
In 2007 we planted one block of Merlot across two distinct soil types: a fine, thin plot of dry silicate sand, and the alluvial wake of an ancient creek system. For three years we created a unified Merlot from the block, until 2012 when we divided the field by soil and formed the Silica and Alluvia Merlots: twins in every way but one. Harvested in tandem and boasting near-identical winemaking, our labour is to isolate the single variable of soil in our flagship wines. Together, the Alluvia and Silica Merlots are paragons of all that we aim to achieve at Intersection: honest wines that truly represent a certain place at a certain time.
Wine Specs
Aging
Recommend decanting for 1-2 h to serve now, or keep for 5-7 years.
Wine Profile
Tasting Notes
Medium burgundy with dark cherry highlights. Nose features ripe blackberry & black cherry jam, very big fruit for Alluvia so early on! Frgrant licorice and star anise, kirsch notes. Spiced-liqueur dominant and huge intensity, a really solid Merlot from an excellent growing season. Palate follows the volume of the nose with big tannin structure, which is still considerably open even at this early stage in its aging. Still showcases the hallmark acidity and earthiness that the Alluvia tends to, this will continue to develop over cellaring.
Production Notes
Harvested October 15th, 2020. Fermented in tank for 4 weeks, pressed and then aged in new (30%) & neutral French oak barriques for 18 months. 2020 was an exceptional, viticulturally balanced vintage, with budbreak and flowering happening in the end of April and early May respectively, followed by steadily warming temperatures, minimal forest fire pressure and a long, frost-free fall. 227 cases produced. Some interesting barrel information! 2 new Francois Freres barriques: 1 x Exclusif (36 months wood maturity) medium-tight-grain Medium toast, as well as 1 x Exclusif tight-grain MX toast--uses the Medium toasting temperature for a longer duration. One new Ermitage barrique as well: Allier forest, Medium toast, wood maturity not indicated however minimum is 24 months.
Food Pairing Notes
Enjoy with slow-roasted lamb or beef shank.
Other Notes
Our 10.5 acre vineyard is over 50% Merlot, and we have two different clones, both identified in Bordeaux during the 1970s. The vines for both our Alluvia and Silica were planted together, across different soil types but sharing the same rows. The name "Alluvia" refers to glacial till that makes up most of the vineyard, featuring silt, gravel and large rocks. This alluvial till lends the wine distinct characters due to heavier canopy than the drier side of the block, larger berry size, slightly lower pH (due to shade and more water holding capacity in the soil). Using only 30% new oak and encouraging expression of the grapes, the result is a structured, deeply complex Merlot that can be enjoyed now, or hold for aging.